Die TrueSight Usergroup ist ein von den Kunden, Partnern und BMC Software organisiertes Treffen. Diese Website dient als zentrale Informationsstelle für Terminplanungen, Lokationen, Agenden und Anderes rund um diese Veranstaltung!
Bei Fragen zur TrueSight Usergroup einfach kurz eine Mail an info@tsug.de schicken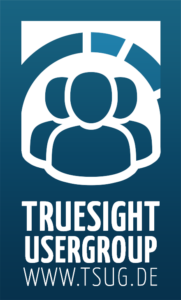 Jetzt neu! TrueSight Usergroup@BMC Communities …
Einfach registrieren und mitmachen …
https://communities.bmc.com/groups/truesight-user-group
(Sie verlassen die TAUBER Business Solutions Webseite!)
Nächste Veranstaltungen
BMC Exchange 2019 am Dienstag den 17.09.2019 in Darmstadt
TrueSight Usergroup 2019 am Mittwoch den 18.09.2019 in Darmstadt
Jetzt hie für die Exchange & Usergroup 2019 registrieren
https://exchange.bmc.com/germany/darmstadt
(Sie verlassen die TAUBER Business Solutions Webseite!)
Wir arbeiten noch an der Agenda für dieses Event!
TrueSight Usergroup Update 2018
Vielen Dank erstmal an alle die uns im INFINITY Hotel in München auf unserem BMC Exchange Stand und am Tag danach auf der TrueSight Usergroup besucht haben! Es war eine tolle Veranstaltung und wir haben viele gute Gespräche und Diskussionen geführt. "Nach dem Event ist vor dem Event" und so arbeiten wir jetzt schon an zwei Veranstaltungen für 2019. Dem ersten TrueSight UserGroup TechTalk, bei dem es einen ganzen Tag um die neue TrueSight Architektur gehen soll und natürlich der TrueSight UserGroup 2019!
An dieser Stelle noch mal "Vielen Dank" noch mal an alle die bei der TrueSight UserGroup mitmachen, bei der Organization und natürlich auch beim Diskutieren und Austauschen!

Timo

PS: Links seht ihr unseren Stand … und so leer war er meistens nicht 😉
The German TrueSight Usergroup is a community driven technical meeting run by customers, partners and BMC Software (the vendor) itself. This website will be used to provide locations, schedules, agendas and topics around the events.
If you have questions, please don't hesitate to contact info@tsug.de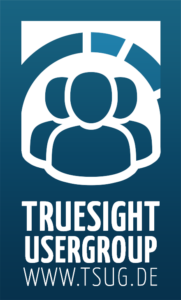 TrueSight Usergroup  2019
We are currently working on the Agenda!
TrueSight Usergroup Update 2018
First of all thank you to all of you visiting our both on the BMC Exchange in Munich and the TrueSight UserGroup the day after. It was a great event and we had a lot of good talks and discussions! So "after the event is before the event" and so we started already working on the next to events for 2019. The first TrueSight UserGroup TechTalk focusing on the new TrueSight architecture a whole day and as always the next two days TrueSight UserGroup 2019.
Finally I would like to thank a of you again. The ones helping to run the TrueSight UserGroup and all of you joining us!

Timo

PS: To the left you find our booth on the Exchange and believe me … most of the time it was crowded 😉